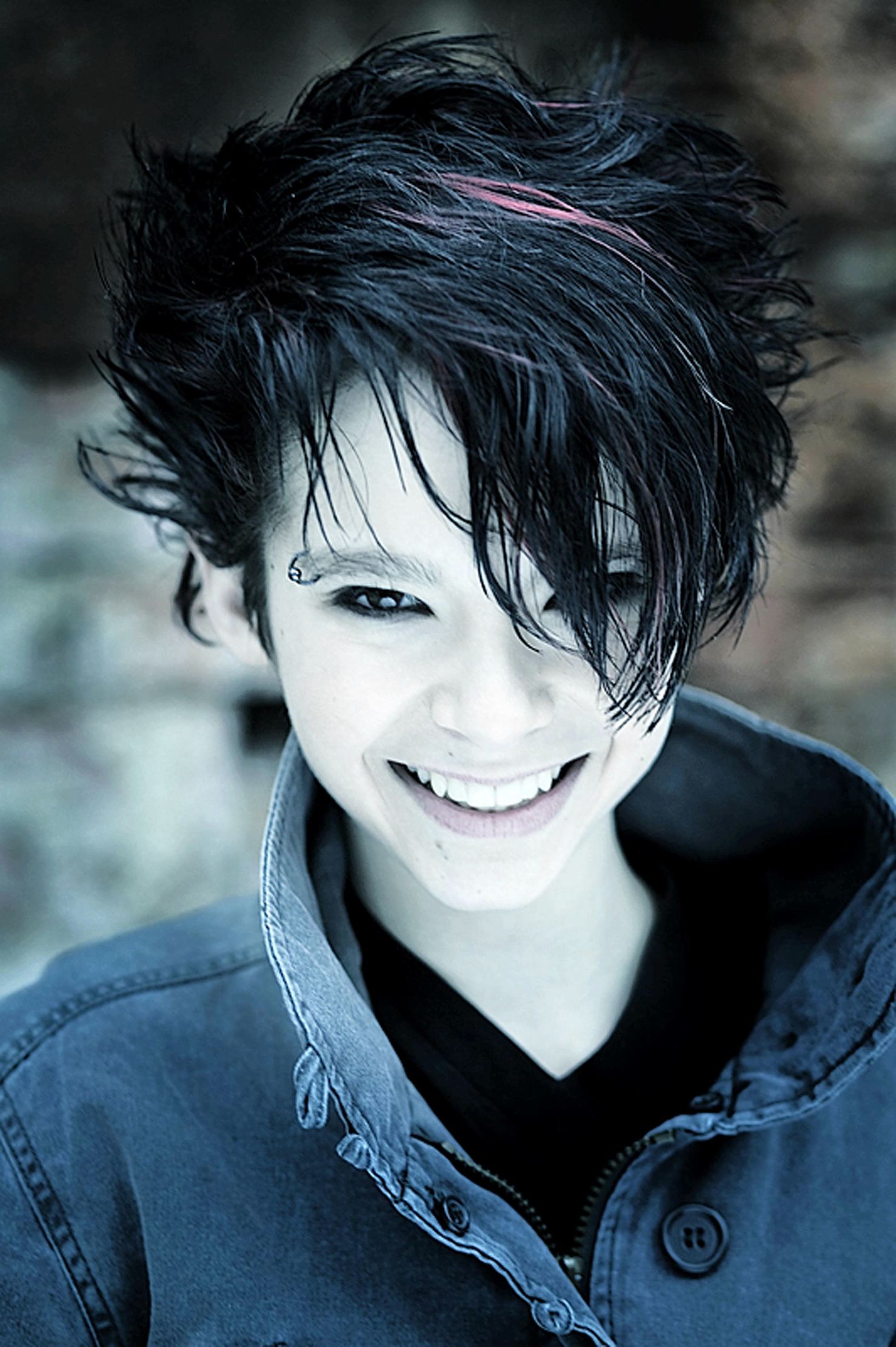 Bill Kaulitz was born on September 1st, 1989 – 10 minutes after his twin brother, Tom. He was born in Leipzig in East Germany. His parents, Charlotte and Jörg, separated when the brothers were only seven years old. Later Charlotte started dating their stepfather, Gordon,  who played a crucial role in the musical upbringing of the twins. They are no longer married.
Bill showed interest in music and singing very early in his life – According to him, Tom and Bill started writing music when they were only seven years old. Gordon noticed their interest in music and helped the twins start their own band. In the beginning, they performed around Magdeburg, at the age of 10. They quickly realized they needed a drummer and a bassist. They met Georg and Gustav, and convinced them both to join the band. They named the band "Devilish".
Bill auditioned to be a contestant on the German reality tv-show "Star Search", which gave the band a little more promotion, and caught the interest of a few producers. The same producers offered to write an album with them. Eventually, after a year of writing songs, they released their first single "Durch den Monsun" in 2005. The song went on to become a massive hit, and propelled the band into stardom and a career in the music business.


Briefly after the beginning of the Tokio Hotel success, Bill and twin brother Tom relocated to Hamburg. In 2009, the guys had to move out of their loft, and into a more secure house outside of Hamburg. The night of celebrating their 21st birthday (in a vacation house on the Danish west coast!), a group of fans broke into their house in Hamburg. This was the breaking point for both twins, after years of fighting against a crazy group of fans that stalked the twins everywhere. These "fans" attacked the twins' family, friends, employees and even cleaning crew.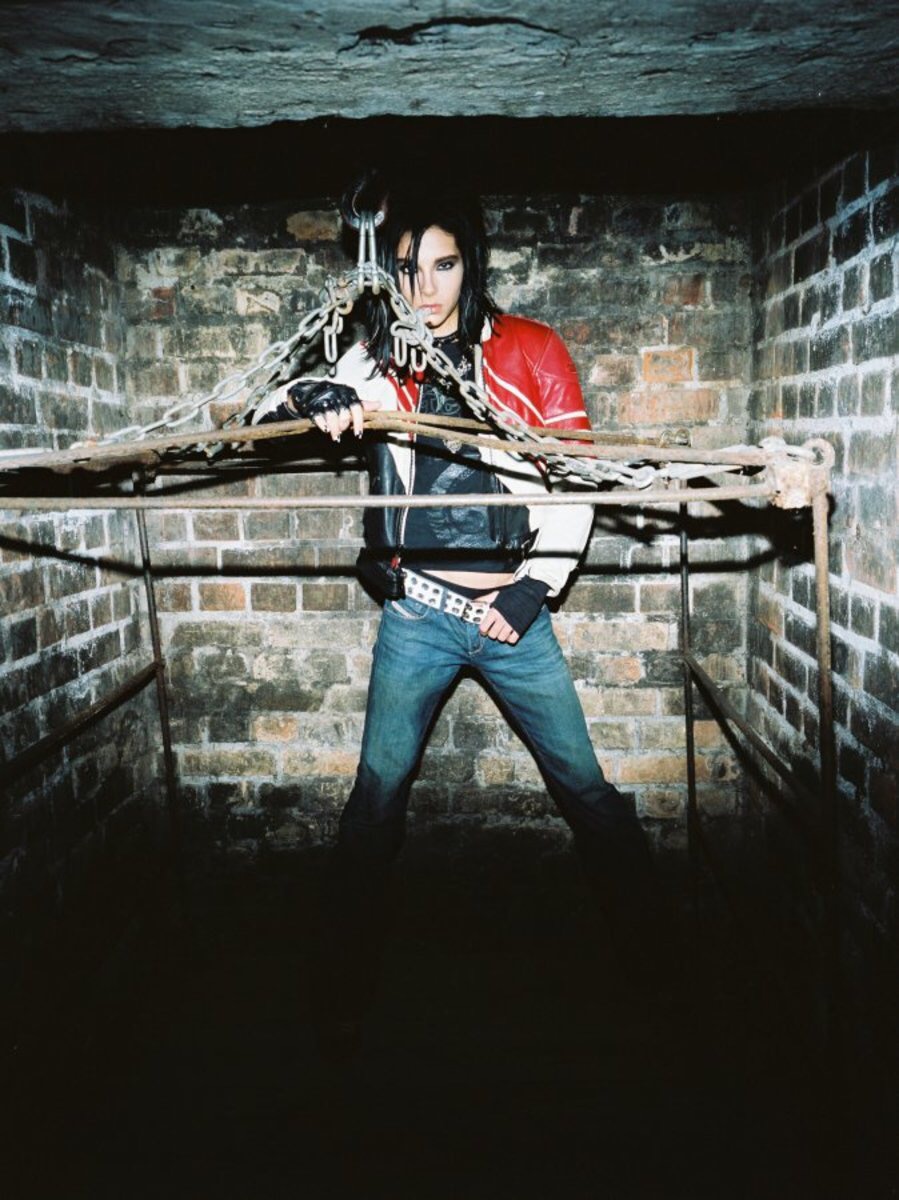 After the break-in, the twins felt like they were done with Germany, and decided to pack up their suitcases, grabbed their dogs and brought their mom and stepdad with them on a private plane, as they escaped to Los Angeles. To this day, they still live permanently in L.A., but often talk about one day returning back home, or at least having a house in both countries.
I think the whole move to America was, of course, for private reasons, and it was super necessary to to do that. I mean, it wasn't possible for me to actually have a life outside of this band. So when we went home [to Germany], it was kind of like living in a prison the whole time. We couldn't go outside. We couldn't do anything.

 

-Bill Kaulitz
When it comes to looks Bill always stood out. He was always different in his own way and never thought much of what anyone else thought of him. His style, for a lot of years, included big edgy hair and dark make-up. Today he still likes to rock a pair of high heeled boots or shoes and sometimes still wears makeup or nail polish– However, his day-to-day look has become more relaxed after he moved to L.A. Bill is also a big fan of tattoos, and have many all over his body, including his hands.
Living in L.A. was a whole new world for the twins. They both experienced a sense of freedom they had not felt since they were kids. They could go grocery shopping, eat at restaurants, and go out partying in clubs, without anyone recognizing them. Bill mentions in his book "Career Suicide" that this was so liberating for them and it quite literally saved their lives. He wonders if the band had still existed, had they not moved to L.A.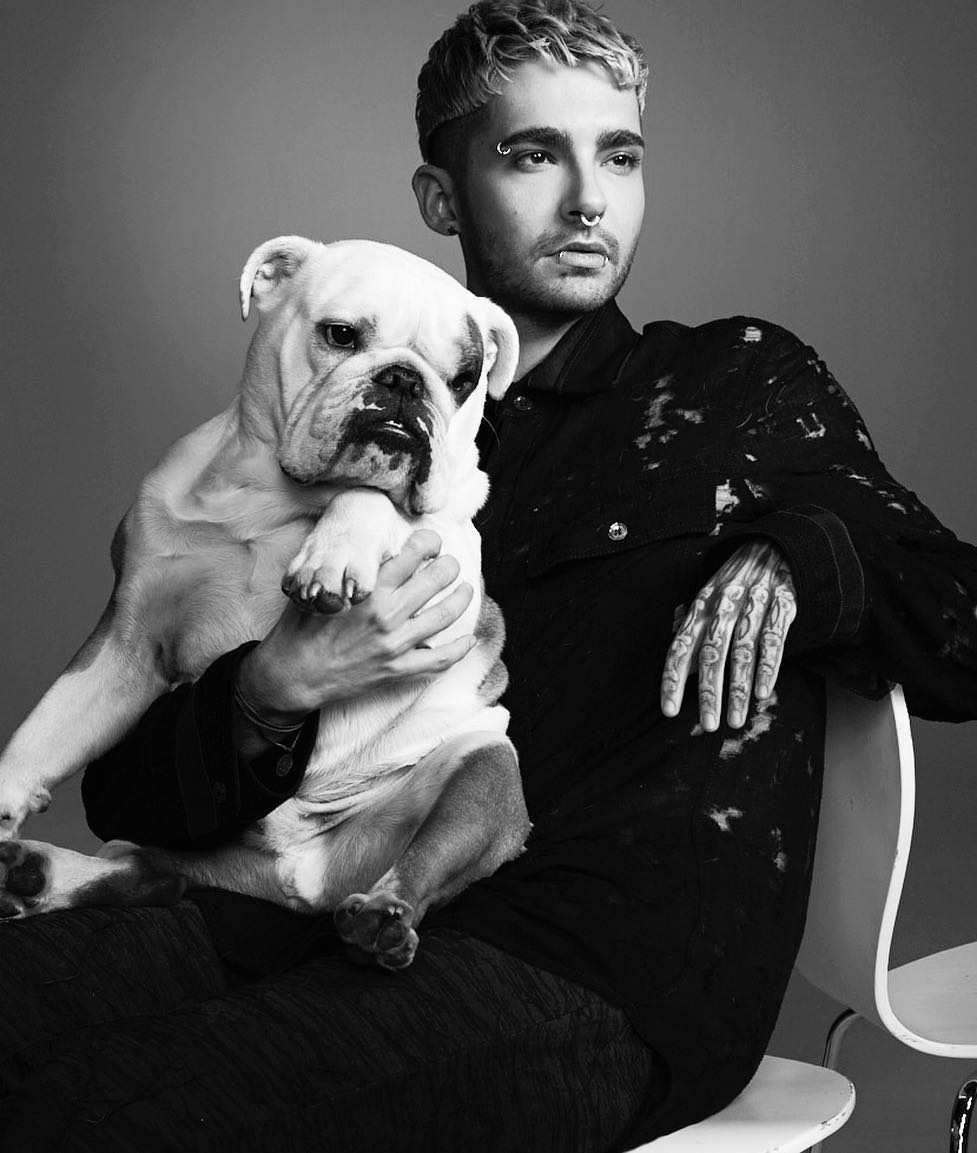 For a while, the band was on hiatus, because the twins sort of just wanted to live their lives. During these few years of "freedom", Bill met a guy, who eventually ended up shattering his heart. This was one of the main forces behind "Kings of Suburbia", where Bill poured his heart out on songs such as "Covered in Gold" and "Invaded". The album was the last album they had to release, while under contract with Universal Music Germany. Bill mentions in his book, that they kept postponing it, because they weren't happy with the label, and because their producer, David, was never happy with how it was turning out. Eventually the album came out in 2014.
Bill is a vegetarian since many years. He loves animals, but dogs hold a special place in his heart. He and Tom both had dogs before and while moving to L.A., and after putting many of them to rest, he eventually got Pumba, a cute old English bulldog, which reached cult-status within the fandom. There was even a plushie made, that looked just like him as merchandise. Pumba sadly had a heart condition, which meant he had to be put to rest early in his life. Tom then bought Stitch for him, another old English bulldog.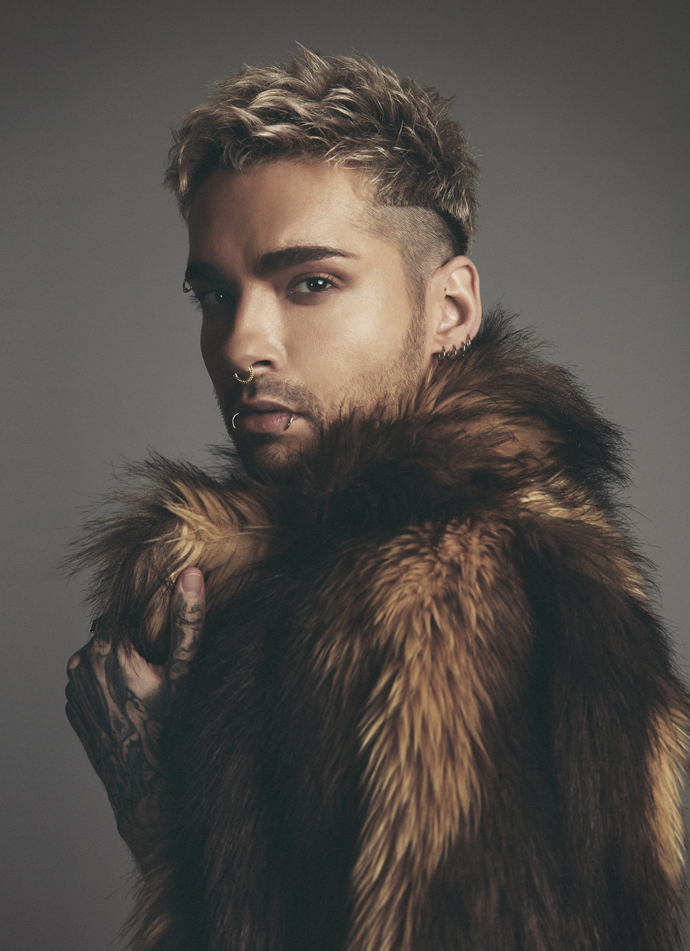 A few years after releasing Kings of Suburbia, Bill felt inspired to release a few songs of his own, without the band. This was done under the alias "Billy". It included an EP, a fashion piece and an artistic photobook.
"I never saw myself as the classic singer/songwriter who sticks to his guitar. I have so many interests: fashion, film and photography. I simply went into this solo project because I enjoy it."

 

-Bill Kaulitz
In 2021 Bill released his autobiography "Career Suicide". In it, he lays everything out on the table, from his wild upbringing, shady record deals with the label, to their producer basically controlling their lives.  He also speaks out on the subject of his sexuality. Something he has been asked a lot during his years as a famous person. His position and opinion on the matter always stays the same though; it's not a topic that's important to him. Gender is not important to him.
Besides the band and his solo projects, he launched his own clothing brand called "Magdeburg – Los Angeles" in 2017. He recalls releasing a hoodie in 2008, and fans went nuts for it, so he thought, "why not make a whole line of it?".
He loves "House of Cards", and would give anything to have been on the show
Some of his favorite designer brands are Gucci, Givenchy, Prada, Rick Owens, Acne, J.Mendel, Dior Homme, Saint Laurent, Ximon Lee and Balenciaga
He used to say he didn't have a celebrity crush, but has since admitted that he finds Kate Winslet to be an amazing actress and sexy
His favorite actress however is Rachel McAdams
All his teacher hated him in school, and at one point him and Tom had to be seperated into two different classes
He loves ALL the baked goods you can get in Germany, and misses it in L.A.
Thailand is one of his dream destinations, but he wants to be a few weeks there and has not found the time in his busy schedule yet
Bill supports PETA, and only wears fake furs
He says he gets easily bored, and thinks that's maybe why he always changes his looks and hairstyle
He likes Chvrches, Daft Punk and Depeche Mode
Robyn is one of his all-time favorite artists, and he especially love the song "Call your Girlfriend"
His all-time favorite song is "Little Bird" by Annie Lennox
Out of all Tokio Hotel songs, he thinks "Better" is the one that describes Bill the best, as the romantic and emotional guy he is. He wrote that at a very hard time in his life
His favorite thing to do in the whole world, is being on stage. He feels like he was born to perform and be on a stage
During the video-recording of "Durch den Monsun", he wore pants he had made with his mother, as they could not afford new clothes
He was pretty bad at maths in school
He likes to collect fashion. He has several closets in different locations. One of them is with his mom, one in Germany, a private one at his house, a band and tour costume storage and a huge walk-in costume storage in his studio
I love Christmas. I love being drunk all day. You're allowed to drink mulled wine all day and start champagne in the morning. I think it's totally beautiful. Everyone is cosy, at home. I love this season. I also love gifts and like to give other people gifts.
I think my biggest struggle is really myself. I'm my biggest competition. The thing is, I'm such a perfectionist with everything I do.
Sometimes I kind of want to let go a little. I'm really controlling with everything and I'm annoying myself a little bit. People say, "Bill, you should chill. No one is going to see that. It's only you." But I always feel like I have to give my everything.
I definitely want to own my own nightclub one day. That's a big dream I've always had. And the biggest dream probably in the entire world is that I want to meet real aliens. It sounds really nerdy and weird, but it's true. I want to be here when we make contact with aliens!
I feel like we all shouldn't think about who we love, because we can't control it anyway. And I feel like so many people try that, but I feel like it's beautiful that we can't control it. We all tend to try to have control of our heart but I feel like in the end, we really can't.
I dress rather unpractically. For example, I did not even take a jacket with me, which means I'm pretty cold. I did not have a suitable jacket to pick, so I thought I would rather be chill.
I'm just really good when I'm not OK and when I'm heartbroken.
We couldn't imagine a life without each other. Tom and I are so connected. We are like one person. We only function together. That's why working together just came so naturally. That wasn't even a question for us. We are glued together with everything in life.