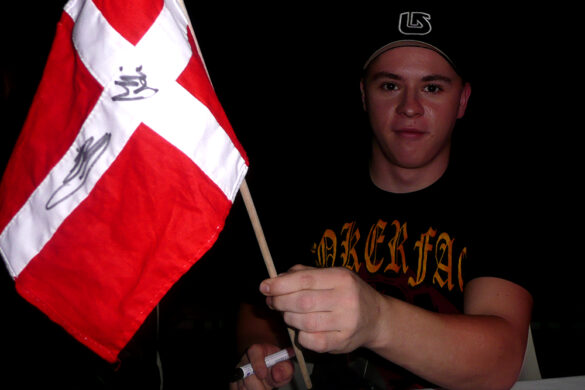 2006
We started out as a social club on the Danish Social Media platform "Arto". Eventually, we wanted a place that was ours, where we could share information, pictures and more about the band. This resulted in Linda creating www.tokiohotelforum.dk in late 2006. We also hosted several fanmeetings in Denmark, which were the first of their kinds in Denmark.
2007
In May 2007, we transformed the Danish Tokio Hotel forum into a fanclub. This meant that we moved to a new domain; www.tokiohotelfanclub.dk. This became the largest community of Danish Tokio Hotel fans. The forum continued to grow, and we even organized a trip to the concert in Essen, as a fanclub.
2008
In 2008, we were gearing up to not 1, but 2 (!) Tokio Hotel concerts in Denmark. The 1000 Hotels Tour was supposed to end in Gigantium in Aalborg, Denmark. Sadly the tour had to be cancelled because of Bill's health. Instead, we held a very large fanmeeting outside the venue in Copenhagen, on the date the concert was supposed to take place (2nd of April). In late 2008, we managed to meet the guys at their VMA fanparty, and have them sign a Danish flag for us. 
2009
2009 was a very exciting year for us. We got announced as the Official Danish Tokio Hotel Fanclub, by Universal Music and Tokio Hotel! It was also the year we joined Twitter, where we are still active to this day.
2010
Finally Tokio Hotel visited Denmark! This happened the 1st of March, as part of their Welcome to Humanoid City Tour. The band brought their amazing stage to Forum, Copenhagen, where we we're surprised by a German setlist, instead of an English one. The Danish fans have always prefered the German songs over the English ones, so the whole venue went absolutely wild when Bill started singing "Komm", instead of "Noise". We were lucky enough to meet the band backstage before the show, and give them a warm welcome to Denmark.
2012
Around this year, the band's activities in Europe cooled down a lot. As a result, the activity on our forum and website were close to non-existent. Eventually we closed down our site, as we had moved our operations to Social Media (twitter and Facebook).
2015
The band was back with a brand new album, and after a few years of not being very active on our fanclub accounts, we promoted the album a bit, for the Danish fans. We also got to see the band live during their "Feel it All World Tour Pt. 1", in London. There, Linda asked the guys, if it was really true that they had celebrated their 21st birthdays in Denmark of all places. The guys confirmed that it was indeed true, that they had rented a vacation house, on the Danish west coast. They brought all their friends, and had a massive party, in what they call a "porn set" house. Apparently all the decorations looked very tacky, and it was definitely not worth the money they had paid for it.
2019
The band finally visited Denmark again in June of 2019. They played a concert in Vega, Copenhagen, as part of their "Melancholic Paradise" tour. We had planned a fanaction, where we all held up signs that said "Welcome Back". Both Jeanette and Linda had VIP package for the show, and were able to properly greet them back to Denmark, and make them promise it would not take another 9 years for them to come back.
2021
In anticipation of the new album, we decided we wanted to create a website for the Danish fans again. This time however, we wanted to make sure that our international friends could also benefit from the content on our website. So for the first time, we produce the website in English, but offer Danish and German translation. The band has signed with Sony, and have now started hunting their old Fanclubs (and new ones!) down. This resulted in the creation of the Official Tokio Hotel Discord server, which we are proud to say we are part of, as the "Danish delegation". You can find us on the server, by clicking the Danish flag under "#Join-Fanclub". We are excited for what the future holds, and will update this history sometime down the line.